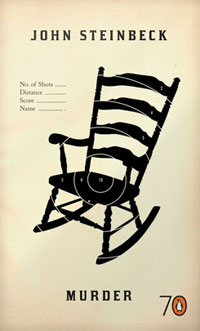 Så kedeligt kan det gøres, mine damer og herrer. Murder indeholder fire noveller der alle sendte mig tilbage til engelsktimernes kedsommelige fortolkningstyrrani. Jeg kan se mine gamle læreres evindelige lortespørgsmål for mig:
Characterise the relationship between Henry and Elisa.
Why do you think the stranger won't answer the two men's questions?
What does the narrator mean when he thinks to himself "That's just exactly how I do feel."
How does Jim react when he enters the bedroom?
Jeg kan varmt anbefale denne bog til alle der er på jagt efter langmodig amerikansk bondesymbolik, gumpetunge psykologiske spil og helt ulidelige vejr- og landskabsbeskrivelser. Læs den før din engelsklærer!
(Nej, seriøst, er der overhovedet noget system i hvilke dele af gymnasielitteraturen der er værd at læse? Salinger og Hemingway er seje nok, og så har de alle de år stået lige ved siden af fesne, fesne Steinbeck og – gys – Toni Morrison. Efter dette er jeg ikke sikker på jeg magter at kaste mig ud i at læse noget af Saul Bellow alligevel. Eller Virginia Woolf. Hvordan kender man forskel?)