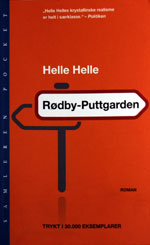 Jeg havde det lidt blandet med den sidste bog jeg læste, men sådan er det virkelig ikke med Rødby-Puttgarden: det er ren og lækker læseglæde som man faktisk ikke så ofte oplever det.
Det er den simple historie om to søstre, der bor i Rødby og arbejder i parfumeforretningen på færgen. Det er ikke handlingen der tæller, men bare tilstanden og stilstanden i deres lille verden af støvregn, romfromage og firserudtryk.
Helle Helle skriver stille og roligt og fuldstændig sikkert, så de to kvinder på deres egen kedsommelige måde bliver helt livagtige og troværdige – lidt som at se en kornet videooptagelse fra for tyve år siden. Og så er de beskrevet med en sjov blanding af indlevelse og distance, så det på én gang virker en lille smule hånligt og en lille smule medfølende.
En dejlig bog – og en forfatter jeg absolut må læse mere af. Nogen anbefalinger?